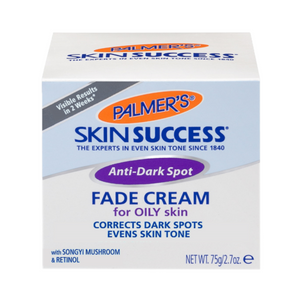 Description:
Infused with natural skin brighteners Vitamin C, Japanese Songyi Mushroom Extract and anti-aging powerhouse Retinol, Palmer's® Skin Success® Anti-Dark Spot Fade Cream Oily Skin enhances skin's radience and helps minimize the apperance of fine lines and wrinkles.
Specifically formulated for oily skin types to control shine and leave a matte finish.
A tone correcting fade cream that effectively lightens the appearance of dark spots and discoloration, leaving skin more luminous and evenly-toned. Uniquely formulated to leave a matte finish and control shininess for skin types prone to oiliness. Formulated with a powerful pigment-perfecting blend of ingredients: 5% Niacinamide, Retinol, Songyi Mushroom, Vitamin C, and Vitamin E.
Free of Parabens, Phthalates and synthetic dyes
Contains an added sunscreen to prevent dark spots from recurring.
Apply Palmer's® Skin Success® Anti-Dark Spot Fade Cream Oily Skin to afftected areas twice daily on clean, dry skin.
Light enough to wear under makeup
Key Ingredients:
Niacinamide - Corrects dark spots and discoloration.
Retinol - Helps improve fine lines and boosts collagen.
Vitamin E - Provides antioxidant protection from free radical damage.
Songyi Mushroom Extract - Balances complexion and restores radiance
Vitamin C - Naturally brightens and evens skin tone
Oil Absorbers - Control shine