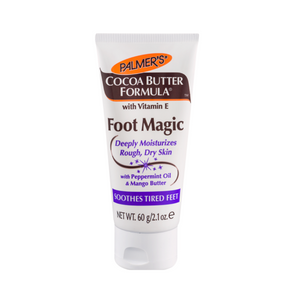 Description:
Pure Cocoa Butter, enriched with Vitamin E and other natural emollients, provides a deep penetrating treatment for the feet. This unique formulation moisturises, softens and smooths even the roughest, driest skin. The addition of soothing Peppermint Oil revitalizes sore, tired feet.
Usage Instructions:
Apply Palmer's Cocoa Butter Formula Foot Magic to rough, dry callused feet daily to achieve and maintain soft, supple skin.
Especially effective when applied to feet at night then covered with cotton socks.
Suitable for Vegans.