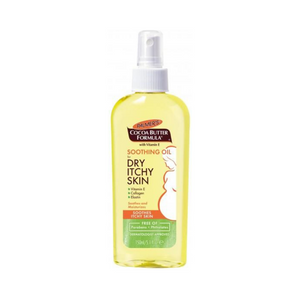 Description:
Palmer's Cocoa Butter Formula Soothing Oil is uniquely formulated to soothe, moisturise and soften the dry, itchy skin associated with pregnancy.  
The unique combination of Cocoa Butter, Vitamin E, Collagen and Elastin soothes and softens skin naturally, while improving elasticity and firmness. 
The addition of Lecithin delivers further softening and soothing effects.
Dermatologically tested.
Not suitable for Vegans
Key Ingredients:
Cocoa Butter: a rich, natural moisturiser that leaves skin soft and silky, transforming even the roughest, driest areas into buttery soft skin
Vitamin E: a powerful antioxidant that helps improve the appearance of scars, stretch marks and imperfections on the skin, giving a more even and toned appearance
Collagen & Elastin: improve skin elasticity, stretch ability and firmness and leads to improvement in overall skin tone, suppleness and appearance

How To Use:
After shower or bath: spray Palmer's Cocoa Butter Formula Soothing Oil for Dry, Itchy Skin directly onto damp skin. Leave on for a few seconds. Pat dry. Also, may be used on dry skin