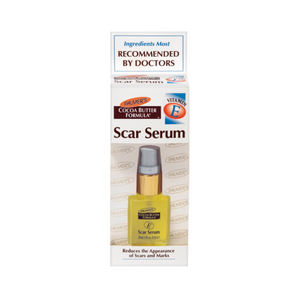 Description:
Palmer's Cocoa Butter Formula Vitamin E Scar Serum combines five powerful ingredients to help reduce the appearance of scars and marks resulting from surgery, injury, burns, stretch-marks, C-sections, cuts, scrapes and insect bites.
A unique blend of pure Cocoa Butter and powerful antioxidant Vitamin E will soften and moisturise dry and scarred skin whilst strengthening skin cells functions.
A concentrated serum that penetrates quickly while forming a moisture-proof barrier.
Suitable for Vegans.
Key Ingredients:
Cocoa Butter: a rich, natural moisturiser that leaves skin soft and silky, transforming even the roughest, driest areas into buttery soft skin
Vitamin E: a powerful antioxidant that helps improve the appearance of scars, stretch marks and imperfections on the skin, giving a more even and toned appearance
How To Use:
Apply Palmer's Cocoa Butter Formula Scar Serum 3-4 times daily. Massage in. NOT intended to be used on open wounds.