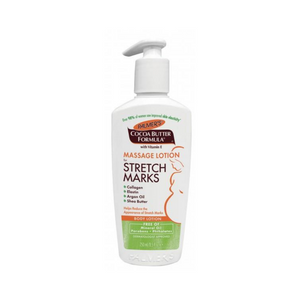 Description:
Helps improve skin elasticity and reduce the appearance of stretch marks. Pure Cocoa Butter, Shea Butter, Natural Oils, Collagen, Elastin and Lutein keep skin moisturised and supple for 48 hours allowing skin to stretch more easily.
Widely recommended for stretch marks during and after pregnancy or weight fluctuation.
Hypoallergenic and Dermatologist Approved. 
Suitable for sensitive skin.
Free of Mineral Oil, Parabens, Phthalates. 
Not suitable for Vegans
Stretch marks are influenced by many factors including diet, skin type and genetics. Results will vary from individual to individual.
Key Ingredients:

How To Use:
Apply all over skin, in place of your regular moisturiser as soon as you discover you are pregnant.
Massage liberally into skin twice daily.