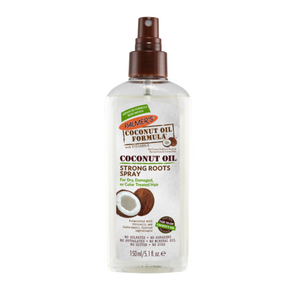 Description:
Palmer's Coconut Oil Formula products contain ethically and sustainably sourced Coconut Oil and Tahitian Monoï, infused with Tiaré flower petals. These raw, natural ingredients deeply hydrate and give hair incredible shine. Palmer's Coconut Oil Formula Coconut Oil Strong Roots Spray is a refreshing scalp spray that strengthens hair at the roots, alleviating tightness and itch, and stimulating the scalp for healthy growth. 
For dry, damaged, or colour treated hair
Made with natural coconut oil and monoi
Free from sulphates, phthalates, gluten, parabens, mineral oil and dyes
Suitable for Vegans.
Directions:
Spray directly onto scalp and massage gently, focusing on areas that need it most. Allow to dry for one minute before styling.
Key Ingredients:
Coconut Oil: Deeply moisturises and protects
ECOCERT certified Monoï Oil: Hydrates and soothes
Peppermint Oil: Simulates and invigorates scalp