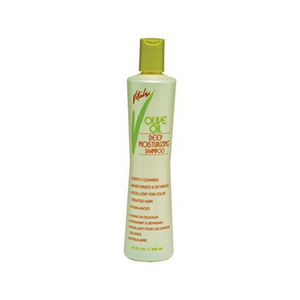 Description:
Enriched with pro vitamins and amino proteins, it provides the right combination of cleansing and conditioning. Its detangling properties smoothes and seals the cuticle allowing more elasticity and manageability. Leaves hair feeling soft and silky. Excellent for color treated hair. 
Directions:
Pour ample amount of Vitale Olive Oil Deep Moisturizing Shampoo to damp hair. Using balls of your fingertips, firmly massage scalp for 3-5 minutes working into rich lather. Rinse and repeat if necessary. 
Ingredients:
Water (aqua), polyquaternium-10, PEG 14M, sodium chloride, cetyl alcohol, ammonium lauryl sulfate, ammonium laureth sulfate, methylparaben, propylparaben, cocoamide MEA, panthenol DL, Dimethicone, glycol distearate, Benzopheby product-4, Tocopherol acetate (Vitamin E), retinyl palmitate (vitamin A), DMDM hydantoin, tetrasodium EDTA, Methylchloroisothiazoliby product, methylisothiazoliby product, hydrolyzed vegetable protein, olive oil extract (olea europea), fenugreek extract, (trigonella foenum-graecum), Angelica archangelica root extract, articum lappa root extract, chamomile recutica ( matricaria) extract, symphylum officinale leaf extract, cviscum album (mistletoe) extract, urtica dioica (nettle) extract, avena sativa (oat) extract, rosmariinus officinalis (rosemary) leaf extract, salvia officinalis (sage) leaf extract, nasturtium officinale extract, arnica Montana flower extract, centella asiatica extract, menthe piperita (peppermint leaf extract, capsicum annuum extract,cochlearia armoracia (horseradish) root extract, yellow no.5, blue no.1,Fragrance (parfum).