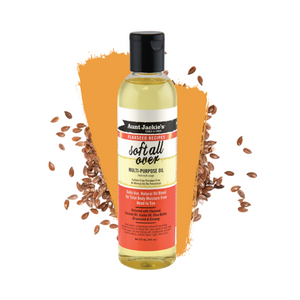 Description:
Nourishing therapy from head to toe, Aunt Jackie's multi-use oil is an excellent remedy to relieve dry scalp, hair, nails and skin. Just a little gets the job done!
Blended with carrier and essential oils, including: Coconut, Grapeseed & Jojoba Oils, Shea Butter and Ginseng, this exceptional recipe softens, shines, invigorates, and won't clog pores.
Directions
Use daily, or as needed. Apply a small amount to dry areas, including: scalp, hair (can be used on wet or dry hair), nails, skin, and face.
As a bath oil: Pour ¼ cap full into warm bath water.
As a hot oil treatment for hair: Pour a small amount into hand, rub palms together and apply all over hair from roots to ends (apply a bit more for longer or thicker hair). Cover hair with a plastic cap and sit under a warm dryer for 10 minutes. Remove cap, and then thoroughly rinse all traces of oil from hair. Towel blot hair, and then style as usual.
 
Net 237 mL. (8 fl. oz.)