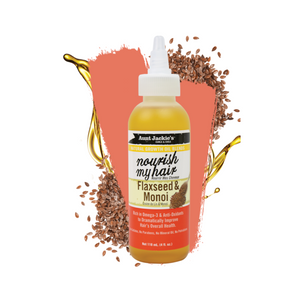 Description:
Flaxseed oil has been used throughout the ages as an excellent lightweight remedy for helping stimulate healthier hair growth, while shining hair and improving scalp health. Rich in Vitamin E, it helps to rejuvenate dull, dry, brittle hair, making it softer and smoother. Fortified with Jamaican Black Castor Oil, to treat chronically dry hair, this therapy is recommended for any hair type and texture.
Great For: Chronically Dry Hair & Scalp, Brittle Hair, Protective Styling.
Directions:
Pour a quarter-size amount in your hand and rub palms together, then apply throughout hair, massaging into scalp and hair, from roots to ends. Comb or gently brush through, distributing evenly. Apply more as needed. As a hot oil treatment, apply and cover hair with a plastic cap. Sit under a warm, hooded dryer for 10 minutes, then remove cap and rinse thoroughly.
Net 188 mL. (4 fl. oz.)