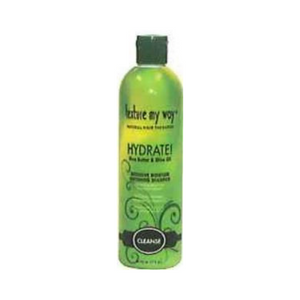 Description:
Give your hair the moisture it creaves with HYDRATE! moisture intensive softening shampoo. This innovative hair bath softens and helops to elongate your natural texture, while drenching parched tresses with moisturizes and conditioners essential for keeping hair manageable and easier to comb. Because it  Sulfate-Free, hair  feel dry and stripped of moisture. Fortified with Shea butter for softness and Extra-Virgin Olive Oil for strength and shine, HYDRATE! is the ideal, moisture-rich therapy for all hair types, including coiled, curly, frizzy, wavy and mixed-textures, as well as for chronically dry hair and scalp.
How To Use:
Pour a general amount of HYDRATE! into hands and gently massage into hair and scalp. Do not vigorously shampoo. Gently work into a lather, cleansing hair as needed.
Thoroughly rinse lather from hair until all traces of shampoo are removed. To better ensure that dirt and particles lifted from scalp have rinsed clear, repeat.
After shampooing, for best results, condition hair with Texture Control Moisture intensive Dual conditioner. 
Net Wt. 355 mL (12 fl.oz.)