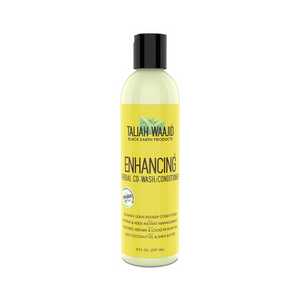 Description:
• Leave In Conditioner
• Nourishes hair from scalp to ends

• Moisturizes and softens hair to add manageability after shampooing
• Contains herbal aromatics and natural oils for total hair health
How to Use:
After shampooing with Black Earth Shampoo™, pour a liberal amount of Enhancing Herbal Conditioner™ into palms of hands and rub together. Work the Herbal Conditioner into the scalp and massage thoroughly to ends of hair. Distribute evenly. Let it sit for 3 or more minutes for instant conditioning, then rinse. For deep conditioning: Cover moisturized hair with a plastic cap for 15 minutes or more, then rinse. For more intense conditioning, sit with covered hair under a hair dryer for 15 minutes, then rinse to enjoy maximum deep conditioning.

What It Does:
You will immediately feel the difference once the Enhancing Herbal Conditioner ™ is applied to your hair. It is specially formulated without harsh chemicals to soften and add manageability to your hair after shampooing. All natural ingredients such as Wheat Germ Extract, Vitamin E, Calendula, Aloe Vera, Walnut Seed Oil, and Thyme ensure your hair not only receives nourishment from scalp to ends, but the precise blend of herbal aromatics and natural oils will make your hair look, smell, and feel great!
Ingredients:
Deionized  Water (Aqua), Glycerine, Cetearyl Alcohol (Derived From Coconut Oil), (and) Behentrimonium Chloride, Butyrospermum Parkii (Shea Butter), Cetyl Alcohol (Derived From Coconut Oil), Parfum (Fragrance), Caprylyl Glycol, Phenoxyethanol, D&C Yellow No. 10 CI (47005).