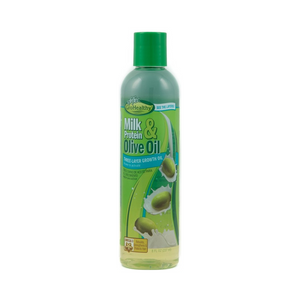 Description:
Sof n'free healthy milk protein & Olive Oil three-layer growth Oil, shake well to activate this exclusive combination of ingredients which delivers nutrients to promote a healthy scalp. For relaxed and natural hair. Strong hair. Recommended to promote growth for all relaxed and natural hair types, including curly hair, African American, and biracial hair.
Sof n'Free Gro Healthy Milk Protein & Olive Oil Three-Layer Growth Oil pampers the hair and scalp with oils and proteins essential for nourishment and growth and protects against flaking, itching, and dandruff.
Directions:
Shake well to activate the oil. Apply a small amount to scalp and hair 2 or 3 times a week. Can be used as a pre-shampoo treatment.