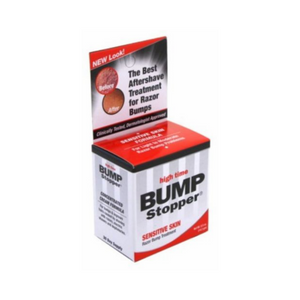 Description:
Bump Stopper Sensitive Skin: Strong and Gentle, will take care of your skin and rid it of ingrown hairs, bumps, and rash!
The original conditioning concentrated cream formula.
For bumps and ingrown hairs caused by shaving with razors, electric shavers and depilatories.
Use 2-3 times a day after shaving and before bed -- 30 day supply.
Guaranteed to give positive results in 3-5 days.
Clinically tested, dermatologist approved.
Ingredients: 
Water, Stearic Acid, Propylene Glycol, Resorcin, Glyceryl Monostearate, Isopropyl Myristate, Bromelain, Cetyl Alcohol, Mineral Oil, Tea, Lanolin Alcohol, Carbomer-934, Chlorhexidine Gluconate, Vitamin A Palmitate.