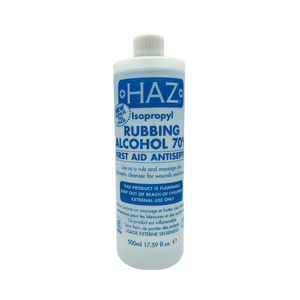 Description:
Haz Isopropyl Rubbing Alcohol 70% First Aid Antiseptic 500ml

Use as a rub and massage plus Antiseptic Cleanser for wounds and bruises, avoid contact with eyes, in case of contact rinse immediately with water discontinue use if rash or irritation occurs.

Active Ingredient:

Isopropyl Alcohol

First Aid:

This product can be harmful or fatal is swallowed. Keep away from children, if product is swallowed do no induce vomiting seek medical assistance immediately.

Warning:

This product is flammable. Keep away from open flames.

500ml 17.59 fl.oz.