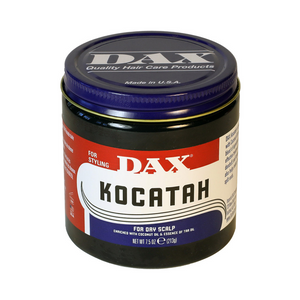 Description:
DAX Kocatah is specially compounded with Coconut Oil and a proprietary blend of ingredients. It is an extremely effective treatment for dry scalp, dandruff, and itching. DAX Kocatah also helps reduce hair breakage and split ends.
Made from Coconut Oil and Natural Tar Oil
Effective treatment for dry scalp, dandruff, itching and reducing breakage and split ends
Benefits
Coconut Oil — Excellent natural conditioner that helps with hair growth and adds shine.
Proprietary Blend — For treatment of dandruff and dry, itchy scalp. Helps relieve itching and flaking. 
Directions:
Apply desired amount to hair and scalp daily. After desired results are achieved, use Dax Pomade daily for styling and maintaining hair and scalp moisture.
Hair Types:
Straight, curly, or coarse hair structures
Results:
Adds moisture to hair and scalp
Soothes itching and flaking
Ingredients:
Petrolatum, Cocos Nucifera (Coconut) Oil, Fragrance (Parfum), Benzyl Benzoate, Violet 2 (Cl 60725), Yellow 11 (Cl 47000).