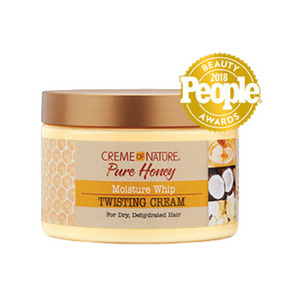 Description:
Define and elongate curls with Moisture Whip Twisting Cream infused with Pure Honey, Certified Natural Coconut Oil and Shea Butter for long-lasting hold and shine.
Benefits:
Defines & Elongates Curls
Provides Crunch-Free Soft & Shiny Curls
Non-Flaking, Non-Sticky, Non-Greasy
NO Sulfates*, NO Mineral Oil*, NO Silicones*
 
Direction:
Scoop a liberal amount into your hand and smooth downward on small sections of damp hair using fingertips. Then twist, shingle, coil or wash n' go. Do not rinse, air dry or diffuse. For curl elongation, use a blow dryer with a nozzle attachment on fully dried hair and direct heat from roots to mid-shaft to lengthen.
Style Tip:
Elongate your curls by using a blow dryer or diffuser after hair is completely dry to stretch curls, twist or braid out