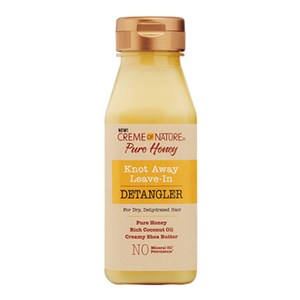 Description:
Infused with Pure Honey, Certified Natural Coconut Oil and Shea Butter to restore moisture and repair split ends, our Knot Away Leave-In Detangler instantly detangles and improves manageability of hair.
Product Benefits:

Helps Repair Split Ends & Restores Moisture
Smoothes the Cuticle and Removes Knots
NO Mineral Oil*, NO Petrolatum*
 
Directions:
Apply generously and work through troubled sections with a wide tooth comb. FOR THICK COARSE CURLS: Use a generous amount as leave-in and completely detangle hair before applying Creme of Nature® Pure Honey styling products.
Style Tip:
Use immediately after removing protective styles and braids to remove tangles in hair prior to cleansing with the Moisturizing Dry Defense Shampoo and Conditioner.
Apply midweek to refresh your curls and restore moisture.