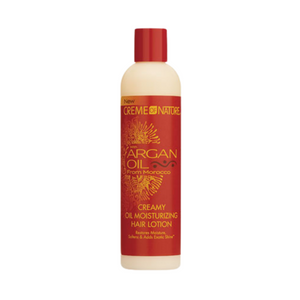 Description:
Creamy Oil Moisturizing Hair Lotion is an oil-rich formula that restores moisture, deeply nourishes, protects against heat styling and strengthens damaged hair.

Benefits: 
Gives long-lasting softness and Exotic Shine™
Infused with Argan Oil from Morocco
How To Use:
Pour a small amount into your palm, rub hands together and massage into hair. Use daily or as needed. Comb and style as desired.
Styling Tip:
Use Oil Moisturizer as a night time treatment to increase hair strength and to mend and prevent split ends and frizz, without weighing the hair down.