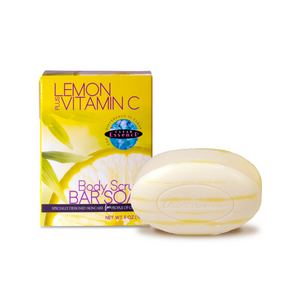 Description:
Cleanse the skin with a unique blend of botanical ingredients including Vitamin C, lemon, and other natural antioxidants to restore balance and tone to the skin. Made with Vitamin C and lemon extract for the treatment of dark spots while scrubbing away dead skin cells for a smoother and cleaner skin tone. We should also mention the light lemon scent leaves skin smelling GREAT!
Skin Concern: Acne, uneven skin texture
Recommended Skin Type: All skin types, specifically sensitive skin
Used For: An even, flawless complexion, cleansing away dirt and oil
How To use: Lather the hydroquinone free dark spot treatment soap between wet hands or on a terry wash cloth. For deep exfoliation, use a body mitt or loofa sponge while lathering the lemon lightening treatment for dark spots. Rinse the skin well with warm water and gently pat dry with a towel. For maximum results, use twice daily; once in the morning and once at night.
For a hydroquinone free lightening treatment using natural lemon extracts: Cleanse the face and body using the Lemon Plus Vitamin C Body Soap Scrub. Treat dark spots and uneven skin with the lemon dark spot corrector, Clear Essence Lemon Plus Vitamin C Skin Beautifying Milk.
Ingredients:
Glycerin: A light, organic, non-greasy fatty acid used as a lubricant and moisturizer.
Lactic Acid: An alpha hydroxyl acid derived from milk or sugar cane that assists in the shedding of dead skin cells and improves collagen formation.
Jojoba Esters: Is a fine ground beads that mechanically removes the very top layers of the stratum corneum. Jojoba microbeads sweep away dead skin cells and help hydrate skin.
Ascorbic Acid: Is the vitamin C. It prevents collagen break down and helps combat the signs of aging. It is an antioxidant that removes the free radicals that cells produce ad provides additional protection against the harmful effects of the sun.