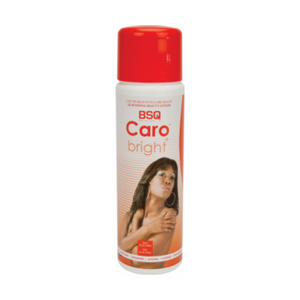 Description:
BSQ Caro Bright Lightening Lotion Orange whitens the skin without giving secondary effects as it is hydroquinone and paraben FREE. It penetrates in deep and eliminates the impurities of skin, leaving it smooth, nourished and lighter, with a uniform pigmentation.

Enriched with UV filters and Vitamin E, it protects the skin from the aggressions of external agents, such as wind, cold…

The anti-inflammatory, soothing, calming, moisturizing, anesthetic, healing, refreshing and antibiotic properties of the Aloe Vera makes it ideal for dry and damaged skin. The Fruit Acids and the Glycerine helps your skin to maintain its right moisture balance. The Vitamin E has a high antioxidant activity, attenuates the reactivity of the free radicals, blocking the oxidative stress that causes damages to cells and prevents the premature aging of the skin.

Due to its protective, moisturizing and firming skin properties, the Carrot Extract is ideal for the treatment of dry skin and in anti-aging products.

How To Use:
Suitable for all skin types, also the most dry ones. For best results we recommend a daily use.