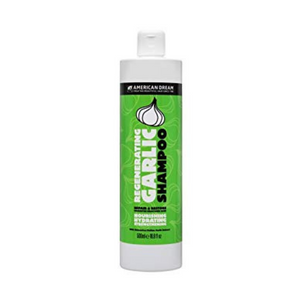 Description:
Garlic has been used for centuries for its medicinal purposes and, with the odour stripped out of the shampoo, all that remains is garlic's natural goodness - including peptides, mineral salts and vitamins. Also contains horseradish root - high in antioxidants, helps regenerate hair and prevent hair loss - and hydrolyzed wheat protein -  absorbed by the inner fibres of the hair making it thicker, while repairing damage, improving structure shine and manageability. Used regularly Garlic Shampoo will:
Hydrate, nourish and strengthen hair follicles
Add significant shine and body to hair that may have been chemically damaged
Aid scalp health and repeated use will reduce dryness, itching and dandruff
Improve blood flow to the scalp and promote hair growth
Recommendations: 
Leave in hair for few minutes before washing to stimulate blood flow & removes toxins 
Follow with American Dream's Regenerating Garlic & Wheat Conditioning Mask that has the same garlic-goodness plus added properties of wheat that improves hair elasticity & strengthens each strand to prevent breakage.