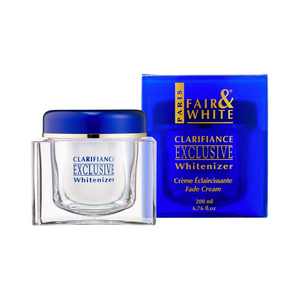 Description:
An exceptional lightening and rich moisturizing cream formulated to smooth and hydrate dry skin, restoring an even skin tone and fading skin discolorations.
Some consumers may prefer to use a creamy textured brightening and lightening formula especially, during winter season. This will help prevent flanking and irritation, keeping skin well hydrated.
Directions:
Apply Exclusive Fade Cream to dry discolored areas of the face and body to cleansed dry, skin preferably at night. Gently massage into skin and let dry.
Recommendation:
Once results have been achieved, continue maintenance 3 days a week, nights only, on Monday, Wednesday and Friday with Exclusive Glycerin with Vitamin "C". Follow up with SkinProtect SPF 50 Sunscreen daily to mantain even skin tone.
Skin type:
Dry and dehydrated skin.
Main Ingredients:
1.9 % Hydroquinone (Hydroxyphenol), Glycerin