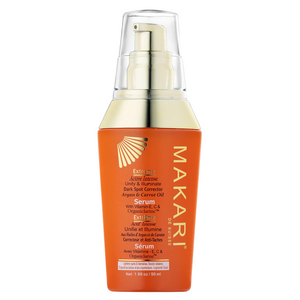 Description:
A multi-use lightweight cream, our Dark Spot Corrector Serum fades discoloration, resulting in dramatically improved skin. Use it as a spot treatment or an all-over serum to reveal a radiant, even-toned complexion.
Recommended for all skin types except sensitive
-DO NOT apply all over face or body
-To lighten discolorations on face or body, dab with cotton swab directly to deeply pigmented area
-To boost lightening, mix very well a few  pumps into milks, lotions, creams, or gels apply as directed
-Product should be used 3x per week at night
-Must use sunscreen during the day to prevent future hyperpigmentation
How To Use:
To brighten discolorations on your face or body, use this serum 3 times a week at night. Dab a cotton swab into the serum and gently apply to hyperpigmented areas on your skin. We recommend using sunscreen during the day to prevent future hyperpigmentation
Ingredients:
Argan Oil, Carrot oil, Vitamin E, Ascorbic acid, Vitamin A

Water (Aqua), PEG 100 Glyceryl Stearate, Isopropyl Myristate, Glycerin, Organiclarine, Propylene Glycol, Ceteareth-20, Argan Oil, Arbutin, Kojic Dipalmitate, Dimethicone, Parfum (Fragrance), Carrot Oil, Sodium Lactate, Allantoin, Methyl Gluceth-10, Tocopheryl Acetate (Vitamin E), Ascorbic Acid, Sodium Lauryl Sulfate, Vitamin A Palmitate, Sodium Metabisulfite, Disodium EDTA, Methylparaben, Proylparaben, Benzyl Alcohol, Benzyl Benzoate Hexyl, Cinnamic Aldehyde Benzyl Salicylate, Citronellol, Hydroxycitronellal, Bemzyl Cinnamate, Isoeugenol, Cinnamyl Alcohol, Cinnamal, Citral, Linalool, Coumarin, Eugenol, Farnesol, Geraniol.