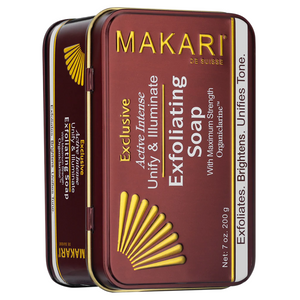 Description:
Reveal next level luminosity with this exfoliating beauty bar. Use 3 times a week to cleanse impurities, exfoliate dull, dead skin and promote a clear, unified skin tone, unveiling luminous and healthy skin.
Suitable for all skin types, except sensitive
-Massage gently in circular motions and rinse
-Use 3x per week morning and night on face and body
-For face, follow with Extreme Toning Gel or skin type appropriate Naturalle Serum
-For body, follow with Extreme Botanical Body Oil or Extreme Glycerin
-Use skin type appropriate soap on alternate days and nights

How To use:
Use the exfoliating soap 1-2 times daily when washing your face and body. For those with sensitive skin, we recommend using this soap only 3 times a week.
Ingredients:
Shea Butter, Carrot oil, lactic acid, papaya leaf extract, Licorice Extract