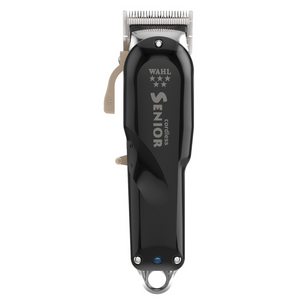 Description:
The Wahl 5-Star Cordless Senior is a lightweight cordless version of a heavy duty American barber's classic! It's powered by a lithium ion battery that'll give up to 70 minutes run time.
Suitable For: Closer Cutting, Precision Fading
Barbers have always loved the Wahl Senior  Clipper for its powerful motor and the Cordless Senior has all that power too, generating a high blade speed with increased torque that'll clip even the thickest hair with ease.
Powered by a lithium ion battery, the Senior will give up to 70 minutes run time and takes just 70 mins to charge up.
All that power drives a thin profile blade with a flat bottom for closer cutting and precision fades. It can be adjusted to zero overlap via the thumb taper lever, giving you outstanding clipping options and instantly adjustable flexibility.
FEATURES
Precision fade blade – Adjustable thin profile blade for precision fades, with a flat bottom that allows for closer cutting.

Powerful cordless motor – Powerful motor that generates a higher blade speed with increased torque for more cutting power.

Heavy duty – Aluminium metal bottom housing provides a sturdy grip with a weighted feel for precision and control.

Lithium Ion battery technology for fast charging and consistent cutting power. Featuring a 70 minute run time on a single charge.

Convenient thumb lever adjusts the taper and texture without changing blades.