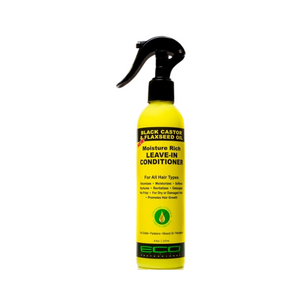 Description:
A luxuriously creamy, hydrating formula that eliminates frizz and leaves your hair glowing, softly scented, and super soft. Enriched with black castor & flaxseed oil and milk protein to strengthen, deeply condition, detangle and nourish your hair.
Hair Type
Great for all Hair types
Directions
Spray throughout hair. Work into hair and style as desired. 
Ingredients
Water, Propylene Glycol, Glycerin, Yellow 5 (10% soln in H20), Citric Acid, Protachem GMS-D, Incroquat Behenyl TMS-50, Cetyl Alcohol, Shea Butter, Lanolin, Castor Oil, Flaxseed Oil, Salcare SC 96, Microcare PHG, Finsolv TN, Peg 12, Dimethocone, Soy-Tein NPNF, Wheat-Tein NPNF, Rosemary Extract, Willowbark Extract, Sodium PCA, Fragrance (Parfum)