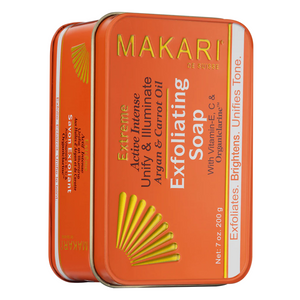 Description:
Get ready to illuminate and uncover a more even toned complexion with this cleansing, exfoliating soap bar. Detoxify and remove impurities, sloughing off dull, dead skin and reveal a glowing skin tone. Richly moisturizing, you will soon see why this is one of our award winning soap bars.
Recommended for all skin types except sensitive
-Massage gently in circular motions and rinse
-Use 3x per week morning and night on face and body
-For face, follow with Extreme Toning Gel or skin type appropriate Naturalle Serum
-For body, follow with Extreme Botanical Body Oil or Extreme Glycerin
-Use skin type appropriate soap on alternate days and nights
How To Use:
This soap can be used 1-2 times daily We recommend that those with sensitive skin only use this soap 3 times a week.
Ingredients:
Sodium Palmate, Sodium Cocoate, Aqua (Water), Glycerin, Carrot oil, Retinyl Palmitate, Licorice (Glycyrrhiza Glabra) Extract, Argan Oil, Carrot (Daucus Catota Sativa) Oil, Sodium Chloride, Arbutin, Prunus Armeniaca (Apricot Seed Extract), Sodium Hydroxide, Parfum (Fragrance), Tetrasodium EDTA, BHT, A-Isomethyl Ionone, Benzyle Alcohol, Benzyl Salicylate,Citronellol, Coumarin, Geraniol, Limonene. Linalool, FD & C Red #4, FD & C Yellow #5 FD & C orange #4