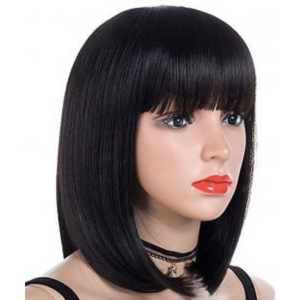 Description:
Hair Style: Medium Bob Straight
Material: 100% Brazilian Human Hair
Cap Construction: Capless
Enhance your wig-wearing experience with our latest addition wig from Ei - the Anne-M Brazilian Wig! This stunning wig comes equipped with an elastic strap, ensuring not only additional comfort but also the confidence that your wig will stay securely in place, even in windy conditions.
Discover the advantages of our capless wigs. Designed to keep your head cooler compared to solid capped wigs, our capless construction allows for optimal airflow to your scalp. With its lightweight and breathable design, you'll experience ultimate comfort throughout the day. To ensure a secure fit, adjustable straps or hooks are conveniently located at the nape of the neck.
Experience the perfect blend of style, comfort, and confidence with the Anne-M Brazilian Wig.