40%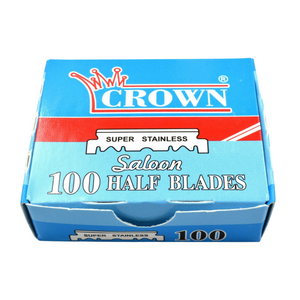 Description:
Experience the precision and quality of Crown Razor Blades designed for professional Straight Edge Barber razors. Each package contains 100 individually wrapped blades, exclusively crafted for use in straight edge barber razors that require "half a blade".
Crown Saloon Super Stainless blades are renowned for their longevity, exceptional smoothness, and remarkable sharpness.
If you prefer a straight edge razor that accepts half a double edge blade, this professional product is tailored for you. No other blade matches the superior craftsmanship of Crown.
We guarantee that these blades will deliver an incredibly smooth shave, surpassing other blades we have tested.
100 blades designed for Barber Razors and Shavettes accepting 1/2 a Double Edge Blade.
Experience unrivaled precision with high-quality razor blades - 1/2 blades ensure perfect alignment.
The top choice among Barbershops and Shave Spas for unmatched performance.
Individually wrapped for maximum hygiene and convenience.
Experience the extreme sharpness and durability that sets Crown apart.