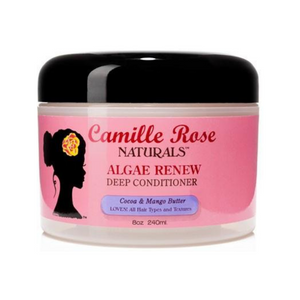 Description:

A vitamin-packed moisturizing and strengthening treatment infused with blue green algae.
Our rich gourmet treatment is infused with a blend of pure blue green algae, packed with 65 vitamins, minerals and antioxidants. Unrefined cocoa and mango butters are artfully blended into this intense deep conditioning formula for maximum moisture benefits. Growth-stimulating biotin extracted from algae is then infused to create this one-of-a-kind softening cocktail for all hair types.
How To Use:
Apply an ample amount to dry or wet hair. Leave on for 10 minutes then cool rinse while detangling with a wide tooth comb. For extra conditioning, don on a plastic cap and apply heat for a minimum of 20 minutes. Allow conditioner to melt away under a cool water rinse.
NET WT 8oz / 240mL