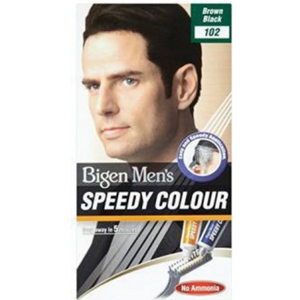 Description:
Grey away in 5 minutes.
Bigen Men's Speedy Colour is the solution for men's grey to carry out a stylish look. Attain a clean-cut appearance in no time.
Easy & Speedy Application:
Just comb through your hair, applying non-drip cream with the Applicator Comb designed for men. Covers grey in 5 minutes. Also, use the mini comb to colour sideburns and hairlines.
No Ammonia:
Unpleasant smell will not bother you during the application.
Smart Saving:
Use only the necessary amount of cream, and the remainder can be kept for future use.
Contains Taurine:
Long-lasting colour and enriching with Taurine.
THIS KIT CONTAINS:
1 x Cream Colourant Tube 1. 40g
1 x Cream Developer Tube 2. 40g
1 x Applicator Comb                
1 x Mini Comb                    
1 x Gloves                                 
1 x Plastic Tray                         
1 x Instruction Leaflet