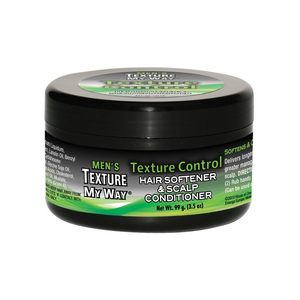 Description:
Africa's Best Texture My Way Men's Hair Softener & Scalp Conditioner 3.5 oz
For Natural / Braided & Texturized Style.
Africa's Best Men's Organics Texture Control hair softener and scalp conditioner moisturisers and conditions the hair and helps eliminate a dry, itchy, flaky scalp. It provides longer lasting moisture and natural shine while keeping hair extra soft, smooth and silky.
Relieves an irritated scalp. Softens hair. For all hair types and textures.